Members
Simón Guevara Camacho
Partner
Member of Travieso Evans Arria Rengel & Paz since 1988 and partner of the Firm since 1996.
He graduated from Universidad Católica Andrés Bello in 1987 and completed postgraduate studies at Tulane University, New Orleans, USA, where he obtained a Master of Laws (LLM) in 1988.
He has more than twenty-two (22) years of experience and is one of the Senior Partners and member of the Board of Directors of Travieso Evans Arria Rengel & Paz, practicing law in the Energy and Corporate law departments of the Firm.
Throughout his career, he has been engaged, among others, in the following activities:
Handling complex legal transactions involving international investors in the energy sector in Venezuela, including regulatory matters, contracts, investment vehicles, project and corporate financing and the day-to-day aspects of the operation.
Serving as corporate secretary in several Joint Ventures.
Handling negotiations among investors and between them and Petróleos de Venezuela S.A. (PDVSA) and its affiliates in relation to the investments and operations of the joint ventures.
Handling complex mergers and acquisitions transactions in the energy sector and in other sectors of the Venezuelan economy.
Involved in projects of the following companies: ExxonMobil (Cerro Negro, La Ceiba, downstream, Olefins Plant), Shell (Mariscal Sucre), Petrobras (Moruy, Plataforma Deltana), Transcanada (Gas Fractionation Facilities), Enron (Gas Fractionation Facilities, LNG Plant, gas distribution), Gas Natural of Spain (gas distribution), Braskem (Olefins and Polypropylene plants), Koch Industries-Polar (Fertilizers Plant), Koch Industries-Polar (Propylene Plant), Pennzoil (Maracaibo Lake Blocks), Teikoku-Inpex (Gas Guarico, PT Moruy, Petroguárico), Statoil (Sincor, Platafaorma Deltana), US Steel (Ferrominera Plant).
Handling corporate issues and transactions for: Verizon, Emerson, BASF, Schlumberger, Oracle, and other multinational companies.
Positions and Recognitions
Secretary positions to the Board of Directors of several ventures.
Member of the Association of International Petroleum Negotiators.
Speaker in conferences in Chile, Argentina, Brazil and Venezuela.
Member of the Caracas Bar Association.
Licensed to act as arbitrator at CEDCA.
Community Activities
Professor for three years of the Oil & Gas Seminar at Universidad Central de Venezuela in Caracas (Master in International Private Law).
Legal Counsel for the Instituto Venezolano de Protección del Niño –Invedin (Charity Institution).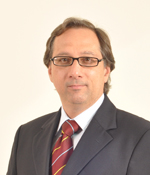 Caracas Office
(58-212) 918-33.33
Email: sgc@traviesoevans.com
Practice Areas
Banking and Capital Markets
Corporate Law
Energy and Mining Law
Maritime Law
Project Financing
Telecommunications
Education
Tulane University. Master of Laws. New Orleans (1988).
Universidad Católica Andrés Bello. Lawyer (1987).
Languages