Members
Rafael Rouvier Matos
Senior Associate
Member of Travieso Evans Arria Rengel & Paz since 2007. Attorney graduated from Universidad Rafael Urdaneta in 2004. He obtained a degree as Specialist in Corporate Law from Universidad Metropolitana in 2009 and also completed Advanced Studies on Constitutional Law at Universidad Católica Andrés Bello in 2010.
He worked as an assistant lawyer for the First Court for Contentious-Administrative Matters, which allowed him to work on draft decisions on various matters, including actions for protection of constitutional rights ("amparo constitucional"), appeals for annulment of administrative rulings of the Ministry of Labor, the Superintendence of Banks and other Financial Institutions, and the Superintendence for Promotion and Protection of Free Competition, and contentious appeals for annulment.
Currently, he focuses in litigation of civil, mercantile and especially labor matters before both judicial and administrative entities. In the labor area, he has extensively handled oil collective bargaining agreements, as well as substantive laws on labor matters and work safety and health. He has represented multinational companies in proceedings filed by foreign personnel that have rendered services in Venezuela. He has acted in administrative proceedings of reinstatement of employment, claims, and collective claims, among others.
He also has experience in the corporate area, in the drafting of contracts, corporate minutes, and in the relevant steps to be taken for the registration and authentication of the same.
Conferences
"III Jornadas Estudiantiles de Derecho Civil "La Globalización y El Contrato Electrónico. Universidad Rafael Urdaneta (2002).
Positions and Recognitions
Member of the Bar Association of the State of Zulia since 2004.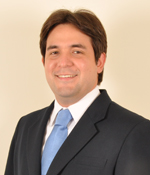 Maracaibo Office
(58-261) 792-02.61
Email: rjr@traviesoevans.com
Practice Areas
Education
Universidad Católica Andrés Bello, Advanced Course on Constitutional Law (2010).
Universidad Rafael Urdaneta, Specialist in Labor and Social Security Law (Special Work for Graduation Pending).
Universidad Metropolitana, Specialist in Corporate Law Caracas (2009).
Universidad Rafael Urdaneta, Maracaibo. Lawyer (2004).
Languages
Experience
Escritorio Jurídico Guanipa Villalobos y Asociados. Lawyer (2006).
First Court for Contentious-Administrative Matters. Assistant Lawyer (2004-2005).
Eighth Notary Public's Office of Maracaibo (1998-2004).