Members
Miguel Angel Santelmo Bravo
Senior Associate
Member of Travieso Evans Arria Rengel & Paz since September 2012, Caracas Office. He graduated from Universidad Católica Andrés Bello (UCAB) in year 2003. He completed a Specialization in Procedural Law (Cum Laude) at Universidad Católica Andrés Bello in 2010.

He practices in the area of civil and mercantile litigation. He is experienced in the preparation and drafting of all type of documents and briefs in the litigation area. He has participated in many civil and mercantile judicial proceedings, as well as in proceedings of cases involving children and adolescents, before the courts of the judicial circuit of the Metropolitan Area of Caracas and of other cities of the country and before the Supreme Tribunal of Justice. Also, he has participated in administrative proceedings before the Institute for the Defense of Individuals in the Access to Goods and Services (INDEPABIS).
He has also taken part in some commercial arbitration proceedings, under the rules of the Arbitration Center of the Caracas Chamber of Commerce (CCC).
His professional activity has also developed in the preventive area (answers to consultation, opinions and contracting).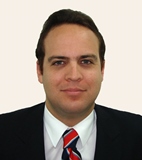 Caracas Office
(58-212) 918-33.33
Email: mas@traviesoevans.com
Practice Areas
Litigation, Arbitration and other Methods of Dispute Resolution.
Education
Universidad Católica Andrés Bello. Specialization in Procedural Law (Cum Laude) (2010).
Universidad Católica Andrés Bello. Lawyer (2003).
Languages
Experience
Hoet Peláez Castillo & Duque. Lawyer (July 2012- September 2012).
Klemprer Rivas Pérez Trujillo & Asociados. Associate lawyer (July 2005- July 2012).
Organización Kursan & Asociados. Lawyer (April 2005-July 2005).
International Lawyers. Lawyer (July 2003-April 2005)