Members
Andreína Lusinchi Martínez
Senior Associate
Member of Travieso Evans Arria Rengel & Paz since 2010. She graduated from Universidad Católica Andrés Bello in year 2009. She obtained a Master's Degree in Tax Law from Instituto de Empresa de Madrid, Spain.
As to tax administrative proceedings and litigation, she has had a good performance representing several companies, especially in written defenses that are inherent in these proceedings. Also, she has been in charge of preparing answers to consultation on tax matters.
Community Activities
Co-founder of the not-for-profit organization ProBono Venezuela, the mission of which is to offer free advice and intellectual support in depressed areas of the Venezuelan society and correctional facilities. (Current).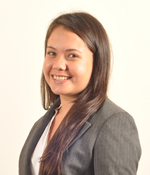 Caracas Office
(58-212) 918-33.33
Email: alm@traviesoevans.com
Practice Areas
Education
Instituto de Empresa de Madrid, Spain. (2010).
Universidad Católica Andrés Bello. Lawyer (2009).
Languages
Experience
Deloitte Madrid- Spain. Mergers and Acquisitions Department (May 2010).
Mayor's Office of the Sucre Municipality, Miranda State (2009).
Legal. Assistant. D'Empaire Reyna Abogados. (2006-2009).