Members
Daniela Alejandra Del Vecchio Rosalen
Senior Associate
Member of Travieso Evans Arria Rengel & Paz since year 2014. She graduated from Universidad Metropolitana (UNIMET) in year 2012. She completed with honors the Specialization in Corporate Law at said university.
The core of her practice is Corporate Law. She has professional experience in the preparation and drafting of all type of documents and contracts and in the compliance with various formalities at different governmental entities.
Positions and Recognitions
Honors awarded in Special Graduation Paper: "La Personalidad Jurídica de las Sociedades Irregulares". Universidad Metropolitana. Caracas, Venezuela. (2014).
Honors awarded in Final Graduation Paper: "Caso de la Catástrofe Ecológico-Ambiental del Golfo de México: Derecho Ambiental Aplicable, ¿ante un Derecho Internacional Ambiental Fragmentado?" Universidad Metropolitana. Caracas, Venezuela. (2011).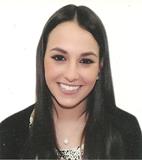 Caracas Office
(58-212) 918-33.33
Email: ddv@traviesoevans.com
Practice Area
Education
Universidad Metropolitana. Specialization in Corporate Law (2014).
The Institute for U.S. Law. U.S. Legal English Program and U.S. Legal Methods: Introduction to U.S. Law Program. Washington, D.C., USA (2013).
Universidad Metropolitana. Lawyer (2012).
Languages
Experience
Associate Lawyer. ARAQUEREYNA Law Firm (2011-2014).
Legal Assistant. D Empaire Reyna Abogados Law Firm (2010-2011).